On Running Mens Shoe Cloudventure
Colour: Shadow/Rock
Sizes in US Sizing
A quest for the perfect running sensation

From a revolutionary idea a Swiss running shoe has evolved that is still amazing the sporting scene.
The On provides a new running sensation, and one that puts fun firmly centre-stage.

It's not just a love of running that former top athlete Olivier Bernhard and his friends David Allemann and Caspar Coppetti share. They're all also dedicated to developing a perfect
product. And this is what has turned a revolutionary idea into a new running shoe that began by amazing the sporting scene and has since helped numerous top athletes to new personal bests at World Championship events.
Micro-engineered Grip-Rubber sole
The Grip-Rubber profile of the Cloudventure performs in the most demanding conditions. Its sole is micro-engineered with four distinct levels of grip, so you're in control on the trail, and the street.
Light, comfortable and unique 2-Layer upper
The Cloudventure family is built with an ingenious 2-layer upper. It combines a highly comfortable and supportive inner layer with a breathable, light outer layer that is also treated with a durable water repellent (DWR) coating.
Intelligent CloudTec® cushioning
The patented CloudTec® sole has 11 individual pods that stretch back upon impact to offset the forces of downhill running. We call it horizontal cushioning, and it comes on top of our standard vertical cushioning.
Made for the trail
Every aspect of the Cloudventure has been engineered with the ultimate trail running shoes in mind – right down to the toe-caps.
Fused with rubber and engineered mesh, it provides protection for the toes while still remaining lightweight and flexible.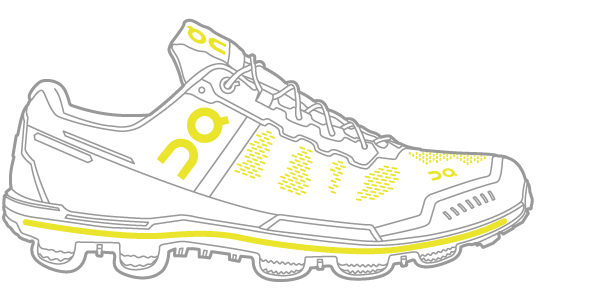 Runner profile
Runners looking for a lightweight trail shoe with full cushioning protection.
Goal
Reach places others can't.
Heel-toe offset
6 mm | 0.23 in
Weight
295 g I 10.1 oz (US M 8.5)
On models are straight forward. In most cases, you just take the same size as your current shoes.
Should you wish to compare with another running shoe brand, please use below guide to clarify your size.
| | | | | | | | | | | | | | |
| --- | --- | --- | --- | --- | --- | --- | --- | --- | --- | --- | --- | --- | --- |
| EUR | 36 | 36.5 | 37 | 37.5 | 38 | 38.5 | 39 | 40 | 40.5 | 41 | 42 | 42.5 | 43 |
| US | 5 | 5.5 | 6 | 6.5 | 7 | 7.5 | 8 | 8.5 | 9 | 9.5 | 10 | 10.5 | 11 |
| UK | 3 | 3.5 | 4 | 4.5 | 5 | 5.5 | 6 | 6.5 | 7 | 7.5 | 8 | 8.5 | 9 |
| JPN(CM) | 22 | 22.5 | 23 | 23.5 | 24 | 24.5 | 25 | 25.5 | 26 | 26.5 | 27 | 27.5 | 28 |
| | |
| --- | --- |
| Compare On sizes with other shoes | On size |
| Adidas | Go the same |
| ASICS | Go half a size smaller |
| Brooks | Go the same |
| HOKA ONE | Go the same |
| Nike | Go the same |
| Nike Flyknit | Go half a size smaller |
| Mizuno | Go the same |
| Saucony | Go the same |
You may like these: